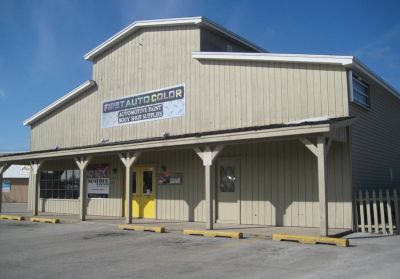 First Auto Color is a family owned and operated automotive and industrial paint and body shop supply store servicing both businesses and individuals in Manteno, Illinois. With over 30 years of experience in the automotive paint and body shop supply industry, you can trust First Auto Color for all your refinishing needs. From paint primer to custom paint colors, body fillers or masking products, our Bourbonnais, Illinois customers can find exactly what they need to get their next paint project down and done right.
First Auto Color offers customers a full range of high quality and professional grade auto body paint and products. Whether you are a body shop, new and used car dealer, custom auto shop, or a hobbyist in Bourbonnais, Illinois, First Auto Color is ready to help you finish the job. Besides paint products, First Auto Color has the tools and safety equipment to finish any primer, paint, filler, or masking job, no matter what your level of experience is.
For your Manteno, Illinois auto body shop needs, auto paint, primers, shop tools, masking products, refinishing tools, and custom auto paint colors trust the quality and experience First Auto Color has to offer. Just stop in or give us a call and let us know how we can help you!