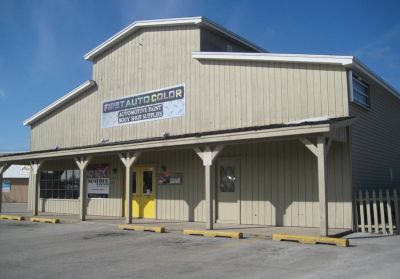 First Auto Color is a family owned and operated automotive paint and body shop supply store serving the Kankakee, Illinois area. First Auto Color's automotive and industrial paint shop has supplies for all your refinishing needs, including paint primer, custom paint colors, body fillers, masking products, truck bed liners and fasteners, and body shop tools.
Whether you want a completely new auto paint job, or just want to do an aerosol touch up, First Auto Color in Kankakee, Illinois has all the necessary items from preparation to completion. From brands such as Matrix Automotive Finishes, U.S. Chemical, 3M, Transtar Automotive Technologies, Inc., and more, you can trust the high quality and professional grade products at First Auto Color. Whether you are a body shop, new and used car dealer, custom auto shop, or a hobbyist, First Auto Color located in Kankakee, Illinois is ready to help you finish the job.
For your industrial or shop paint needs, auto paint, primers, auto body shop tools, masking products, truck bed liners and fasteners, refinishing tools, body shop tools, and custom auto paint colors, come to First Auto Color of Kankakee, Illinois. Just stop in or give us a call and let us know how we can help you!